The Hitchhiker's Guide to the Prague
We've prepared some tips for things to do while you enjoy your stay in Prague. Check out the video below which reveals usual and unusual places, plans, maps, tips and more. Are you looking for a czech beer, or theater in Prague or just wants to see a beautiful city with hundreds of towers, so read on, or betteryet, come to visit.
Video Tips
Few tips in your neighborhood

Breakfast and Brunch:
Les Kamarades - only 30m away your apartments in Myslikova street you will find cafe Les Kamarades with fabulous breakfast menu for you 
Book store - american style breakfast
Lunch and Supper :
plenty of extraordinary restaurant within walking distance up to 150 m from your apartment
Thai: Lemon Leaf corner of Myslikova and Pstrossova str.
French: Universal corner of Kremencova and V Jircharich
Mediterrain: Dynamo Pstrossova
Traditional czech cuisine:  U bubeníčků - Myslíkova or U Nováků - Pstrossova str.
Wine and bars:
Milujeme Prosseco Myslikova str. - MUST SEE!
Bar 23 Kremencova 23 - beer and shots
U fleků Kremencova - beer
Where to go in Prague?
In order to make your visit as enjoable as possible, we did some research for you, in the following chart you can choose what you would like to visit and use a link to find out more about it.
Fun and adventure
Escape room
here
here
here
If you're traveling in a group, then you will enjoy this, ideal for 4-6 people. 1 hour to solve a chain of problems and find a the way out from the room.
Laser game
here
here
 
Adrenalin, fun and exercise in one pack. If you travel in groups then this is a perfect tip for you.
Invisible exhibition
here
 
 
Live an hour like blind people, explore the flat in pitch black using only your other senses. Real strong emotions. We recommend. Also you will support a good thing.
Culture and shopping
Theaters
here
here
here
Choose from many theater, national or smaller local theaters with great atmosphere.
Cinemas
here
here
here
You can visit an old school multiplex or small alternativ cinema where you could watch a film from a veteran car.
Shopping centers
here
here
here
Ladies you will have a plenty shops where you could spent money, do not worry :-)

Look closer for more cultural tips here

 
Restaurants and bars
It's really difficult to highlight just a few places worth a visit because you could find a nice pub, cafe, or restaurant on every corner. Still we have prepared some tips based on personal experience.
Maps
Guided tours
The city of Prague offers many ways how to delight your eyes, ears and soul. One way is exploring it by your own, or you can choose a more efficient option: the guided tours. For those of you, who are interested in this alternative, contact our family friend Marek.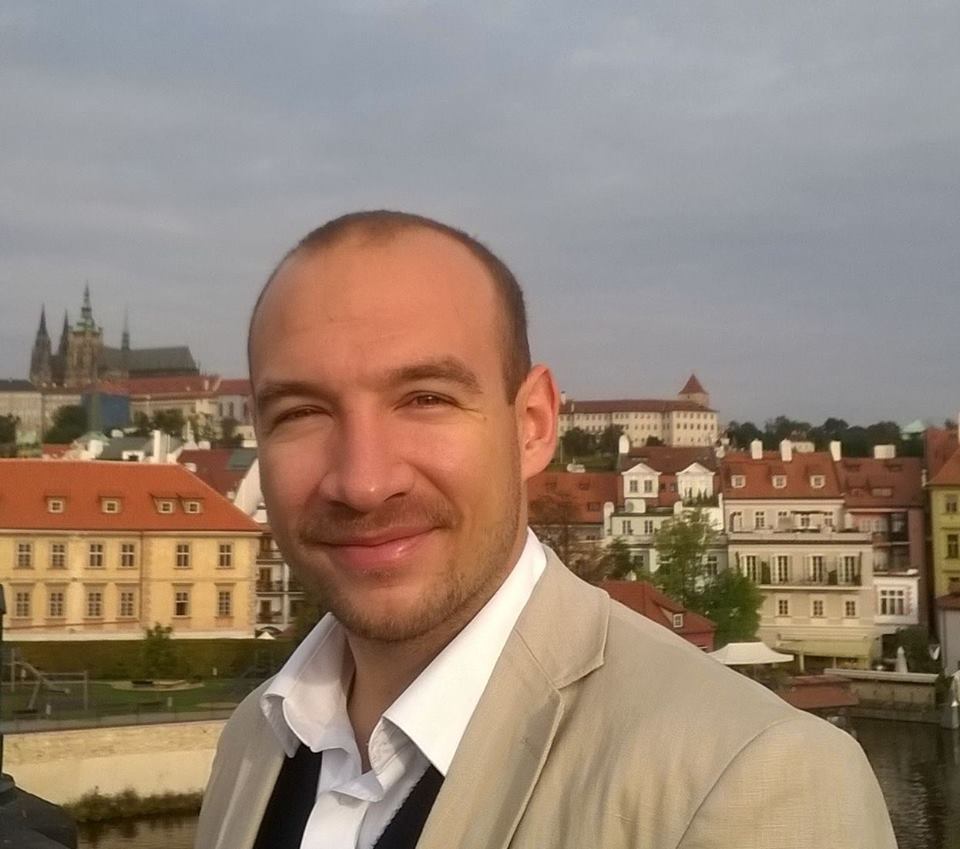 Marek moved to Prague a few years ago and immediately fall in love with this beautiful and mysterious city. After some time he started to cooperate with the tourist agency TuristiPerPraga which offers a professional guide skill of highest quality.
His objective is to share his experiences which have been making him feeling so well here and to make you understand the Prague life as well as show you its beauty, magical charm and historical wealth with the only aim - to satisfy you and make your visit in Prague pleasant and unforgettable.
All services can be provided in Czech, English, French, Italian or Portuguese.
TOUR 1: Classical tour of Prague – 4 hours: Wenceslas Square - Old Town - Astronomical Clock - Jewish quarter - Charles Bridge -Mala Strana – Castle
Prices: • 1-3 partecipants: 75 € • 4-6 partecipants: 90 €
TOUR 2: New Town and Old Town Tour – 2 hours: Wenceslas Square - Powder - Old Town - Astronomical Clock - Jewish quarter -Charles Bridge
Prices: 15 € per person
TOUR 3: Kampa, Malá Strana and Castle Tour – 2 hours: Kampa Island - Infant of Prague - Mala Strana - Nerudova – Castle
Prices: 15 € per person
For those who are interested in more specific aspects of the city or who have special needs, Marek can prepare a program which can meet your demands.
Contact Marek (+420) 734 643 371